'Nigel Farage is far too left-wing for my dad': Caller blames pro-Brexit father for failure of his business
7 February 2023, 15:12 | Updated: 7 February 2023, 16:05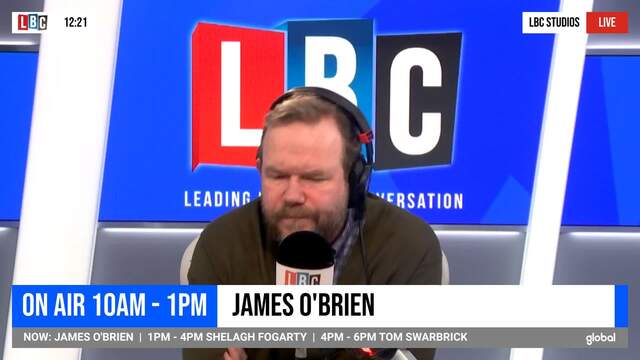 James O'Brien caller, whose business crashed because of Brexit, blames his racist father personally
This caller blames his pro-Brexit father for the "crash" of his business after leaving the single market.
Colin from Edinburgh told James O'Brien about his time as an engineer, growing business in Europe, the UK, and Ireland.
Colin admitted: "After Brexit, my contacts gradually dried up, dried up, and dried up so I wasn't getting any more work in Europe.
"My dad, I don't know where to begin, he won't accept that the crash of my business was because of this.
"He won't accept that it's actually because of him, I blame him personally for it because he knew what I did for a living, he knew where I lived and he just absolutely won't have it and he still won't have it at all and there's no getting through to him."
READ more: James O'Brien reacts as Brexiteer Tory peer calls for more overseas workers
James asked Colin what his father's rationale was at the time.
Colin replied: "He's the most educated and most well-travelled person I know...and the main thing he learned from that was 'English people are the best, England for the English, get all the farmers out, especially the black ones.'"
James responded with sympathy: "And that led him into the arms of Nigel Farage and that wing of the Brexit movement."
Colin quickly reacted: "Nigel Farage is far too left-wing for my dad."
READ more: Rishi Sunak must stand up to Tories 'Brexit purity cult' to strike NI Protocol deal, Keir Starmer says