James Asked For Grenfell Donations For Children... Then This Amazing Man Turned Up
17 July 2017, 12:42 | Updated: 17 July 2017, 12:51
After James O'Brien hosted his show from outside Grenfell Tower, he asked listeners to bring donations for the children who have lost everything. But he never expected this kind of generosity.
Zoe and Cassie set up Kids On The Green in the immediate aftermath of last month's tragedy.
It's a project designed to provide a calm space for families, teens and children affected by the blaze. It's a place that youngsters can go during the day when they are often asked to leave their temporary housing for the day.
But they are desperately short of equipment and appealed on air for people to donate footballs to the group.
Noah went a LOT better than a couple of footballs.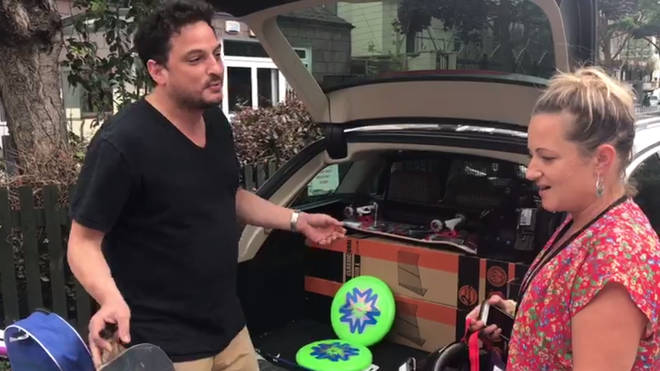 He went out and bought lots of stuff and loaded up his car boot up - full of footballs, frisbees, skateboards and even some goals to donate to the children who need them.
It's not just Noah as well. LBC has been inundated with offers of help for Kids On The Green.
One listener, Fiona, turned up in North Kensington in a taxi with some donations, while John sent in a cheque for the organisation after being so touched by their work.