James Questions Toby Young's Government Role Over "Vile" Tweets
3 January 2018, 14:55 | Updated: 3 January 2018, 14:56
James O'Brien asked the government how new advisor Toby Young's "vile" tweets do not disqualify him from his new job as a University Advisor. And the reply he got from the Department of Education was baffling.
Young, a journalist who helped set up the West London Free School, has come under pressure since his appointment as a series of homophobic and misogynistic tweets he wrote have come to light.
James believes they make him completely unsuitable for the role.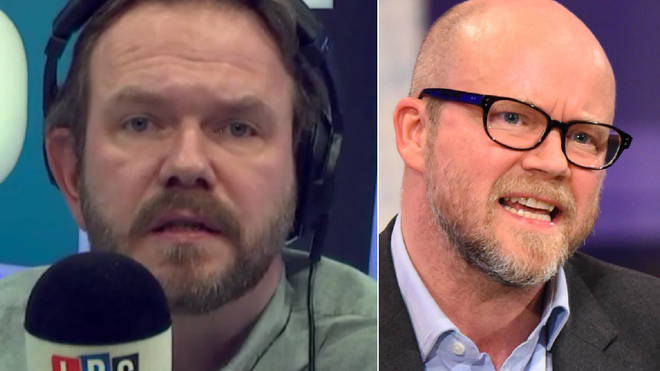 Speaking on his LBC show, James said: "The government's Universities Adviser has been appointed and I just wanted the people that appointed him to explain to you why these tweets, which strike many of us as evidence of unsuitability for that sort of role and indeed status, hadn't troubled them.
"So I thought they'd say 'Well you know obviously this is completely unacceptable, but we're confident he's grown up a bit. We understand your concerns but holding people responsible for stuff that they tweeted six or seven years ago doesn't exclude from this sort of job.'
"This is their response. 'Toby Young's diverse experience includes time at Harvard Harvard and Cambridge.' He was studying both of those universities so that was a bit like saying my diverse experience includes time at the London School of Economics.
"'As well as co-founding the successful West London Free School. His experience will be vital in encouraging new providers...' Do you think they've just cut and pasted this and not responded to our request at all? Surely not, because that would undermine the most basic requirements of the job wouldn't it? Responding to specific inquiries from Her Majesty's press.
"'The appointments to the board reflect the diverse needs of the higher education sector, young people and employers.'
"So they appear to be suggesting that we need people who think that jokes about anal rape are funny. And comments about women's breasts, which he made on an almost industrial scale right across his social media account. And I'm not even mentioning the quotes journalism end quotes that maligned disabled people and children with special educational needs.
"it would appear that when we asked them about the pornographic nature of his tweets and the utterly unacceptable misogyny of much of his social media presence, they respond by telling us that the appointments reflect the diverse needs of the Higher Education sector."
Young has been deleting a number of tweets as they come to light, so we've screen-shotted them to ensure they don't get lost.
WARNING: Extremely offensive language below.