Ten Times James O'Brien Went Viral In 2017
18 December 2017, 12:34 | Updated: 18 December 2017, 13:46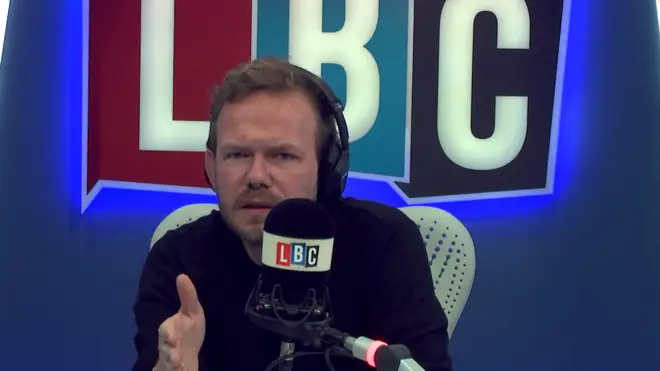 This year, James O'Brien has been labelled as "the man who made radio viral". Here are 10 perfect reasons why.
1. James's Perfect Response To Caller Who Blamed All Muslims For Terrorism
One of the most unusual stories of the year was the moment Donald Trump retweeted three anti-Muslim videos from Britain First's Jayda Fransen.
After James accused the President of an act of terrorism, this caller told him that all Muslims were complicit in terrorism and we need to take action. But James had the perfect response.
2. James O'Brien's Emotional Response To The Manchester Terror Attack
22 people died when a suicide bomber set off an explosive outside the Ariana Grande concert at Manchester Arena.
The next morning saw James O'Brien at his most powerful.
3. Officer Tells Theresa May What Police Cuts Will Do
After the Manchester terror attack, Theresa May ordered the army on to the streets to help out police officers.
James O'Brien highlighted these remarkable exchanges between Theresa May and a former police officer, who predicted exactly that due to police cuts.
4. Emotional Moment Shah Listens Back To His Grenfell Call
Caller Shah told James O'Brien he was on the phone to his trapped mother when she succumb to the fumes during the Grenfell Tower fire.
As James hosted his show live from the shadow of the Grenfell Tower, this is the heartbreaking moment Shah listened back to his emotional call.
5. James O'Brien Pulls Apart The Daily Mail Editor One Fact At A Time
Very few commentators are taking aim at the Daily Mail for fear or being targeted. But James isn't holding back. This is his forensic demolition of Daily Mail editor Paul Dacre.
6. James Perfectly Responds To Caller Who Cites "Political Correctness" During Debate
When this call from Northwood said John Lewis' gender neutral labelling was "bowing to political correctness" - James O'Brien had the perfect response waiting.
7. "I Voted Brexit Because There Are Too Many Brown Faces"
James O'Brien had the perfect response to this caller who told him he voted Brexit because there are "too many brown faces" in his supermarket and hospital.
8. Grenfell Tower Firefighter Compares Inferno To "Just Like 9/11"
The morning after the Grenfell Tower tragedy saw James trying to make sense of what we saw. Then Terry called. He is a firefighter who had spent the night trying to rescue the residents.
In this extraordinary interview, he described how the fire bore a similarity to 9/11.
9. James O'Brien's Perfect Response To Man Who Smacks His Children
Scotland became the first part of the UK to ban smacking. This caller phoned up to explain why he feels it's right to smack his children - and James demolished his argument with one perfect line.
10. James O'Brien Destroys Juncker's EU Speech (With One Small Twist)
James O'Brien said Jean-Claude Juncker brought Remainers and Brexiteers together as he tore apart his 'United States Of Europe' speech.
But the twist at the end of this clip left Brexiteers reeling.