Viral Tube Driver Tells LBC Why He Stopped His Train To Join Grenfell Vigil
14 June 2018, 11:52
The tube driver who went viral after stopping his train to join the vigil for the Grenfell victims told LBC he did it to remember his friend Moses, who died in the fire.
Harvey Mitchell stopped his Hammersmith and City Line train on a bridge just outside Latimer Road station and held a green banner up to the crowds gathering to remember the victims of the fire.
That moment was caught on camera by Sky News and the footage has been viewed hundreds of thousands of times.
Speaking to James O'Brien on the one-year anniversary of the tragedy, Mr Mitchell explained why he did it.
He said: "I have a banner in the front of the train, which I asked permission from my train manager, which says 'To Moses and all the victims'.
"Moses is a friend of mine, I've known him since the 1970s. He lived on the top floor and last week, the news said that he comforted seven other people who died in his flat.
"I knew there would be a vigil as I live in the area. I saw the people there, so I slowly stopped the train, opened the door and I took my green scarf out and held it up. I heard the crowd starting to cheer.
"I went back in and blew the horn in solidarity with all the people."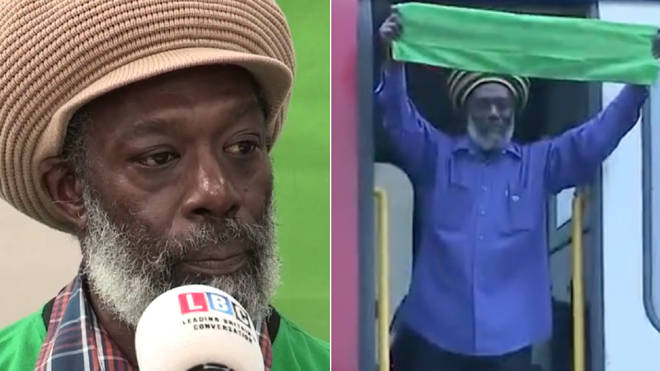 He revealed the lovely messages he has received since the incident, adding: "This morning, I was woken by my phone going ping pong pong pong.
"All my WhatsApp pages were full of people saying how proud they are of me. My grandkids sent me a message saying how proud they are of me.
"There are people grieving and I'm a part of it too, because we are a community and my friend Moses lost his life there."