James O'Brien: Brexit fallout warns rest of Europe against giving power to 'demagogues, racists and idiots'
27 January 2023, 15:15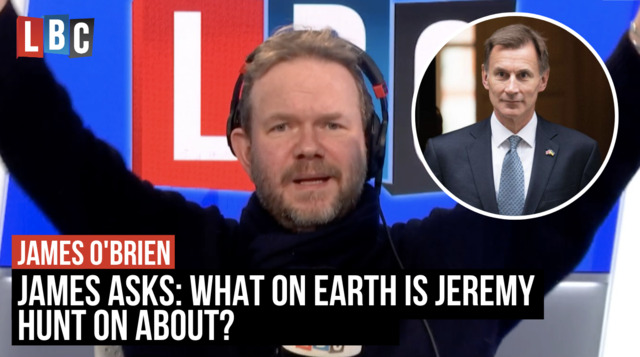 James asks: What on earth is Jeremy Hunt on about?
James O'Brien says since leaving the EU the UK has become a warning signal for other European countries to not let the future of a population be left in the hands of 'demagogues, racists and idiots', as support for Brexit plummets.
James O'Brien pointed to rocketing support for EU membership in Europe and said many Brits are reportedly changing their mind about leaving the EU following the economic slump.
Speaking to listeners after Chancellor Jeremy Hunt's comments on talking up post-Brexit Britain ahead of the March Budget, James said the national mood in the UK had changed and many European nations had taken note.
"Even racists in other countries now are changing their mind about leaving the European Union, you saw it with Marine Le Pen and the Front National, that's how bad it is.
READ MORE: Brexit has made Brits 'suffer' and been 'catastrophic' for the UK economy, says ASDA chairman Stuart Rose
"Even the foreign equivalents of [Nigel] Farage are now no longer talking about leaving the European Union," he added.
James also pointed to the UK's dire economic position and probed the Chancellor's comments on UK growth, expected to be the focus of the budget.
"The reality is now biting, car production in this country is now lower than it was before they started making Minis. It's the lowest it's been in 60 years."
"Why is he bringing Brexit into it" he added. He also argued that huge economic problems were 'going to get worse' with support for Brexit at an all-time low.