Why Do People Hate The EU So Much? James O'Brien Has The Unbelievable Reason
14 November 2018, 13:24 | Updated: 14 November 2018, 15:37
James O'Brien reveals the reason that people hate the European Union so much - the gaslighting from UK newspapers for the last 20 years.
James was baffled by why so many people have such strong feelings about the EU. But this list of inaccurate headlines from the press over the last two decades illustrates how they have been taught to despise it.
Speaking on his LBC show, James said: "If you wanted to work out why and then people you love and people you respect who talk to you as if the European Union is our enemy here's your answer.
"And what's heartbreaking about this is this is how all those poor people ended up ringing my programme thinking that when they said 'I can't wait to escape those laws', it had never actually occurred tothem that they wouldn't be able to name any. That's why."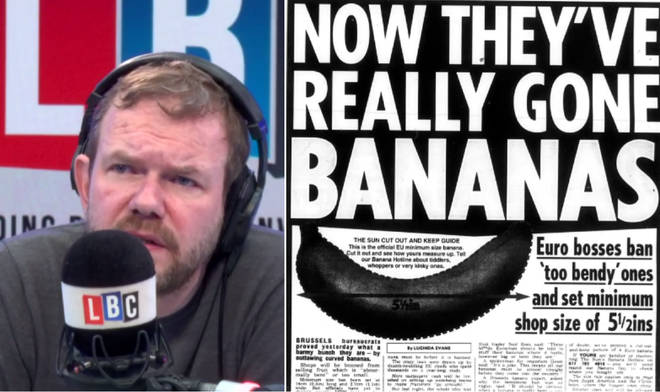 20 Years Of Fake News About The European Union
EC regulations to ban playgrounds – Daily Express
Rolling acres outlawed by Brussels – The Telegraph
EU to scrap British exams – Sunday Express
Obscure EU law halting the sale of English oak seeds – Mail on Sunday
EU may try to ban sweet and toy ads – The Times
EU to tell British farmers what they can grow – Daily Mail
EU 'Bans Boozing' – Daily Star
Light ale to be forced to change its name by Eurocrats – Daily Mail
EU fanatics to be forced to sing dire anthem about EU 'Motherland' – The Sun
British apple trees facing chop by EU – The Times
EC plan to ban noisy toys – Sunday People
EU to ban bagpipes and trapeze artists – The Sun
Children to be banned from blowing up balloons, under EU safety rules – Daily Telegraph
Straight cucumbers – The Sun
Curved bananas banned by Brussels bureaucrats – The Sun, Daily Mail, Daily Express
Brussels bans barmaids from showing cleavage – The Sun, Daily Telegraph
Rumpole's wig to scrapped by EU – Mail on Sunday
Church bells silenced by fear of EU law – Daily Telegraph
Motorists to be charged to drive in city centres under EU plans – Daily Telegraph
EU to stop binge drinking by slapping extra tax on our booze – The Sun
Brandy butter to be renamed 'brandy spreadable fat' – The European
British loaf of bread under threat from EU – Daily Mail
Truckers face EU ban on fry-ups – The Sun
EU to ban Union Flag from British meat packs – Daily Express
EU seeks to outlaw 60 dog breeds – Europa News Agency
Double-decker buses to be banned – Daily Telegraph
EU bans eating competition cakes – Timesonline
Now EU officials want control of your CANDLES – Daily Express
21-gun salutes are just too loud, Brussels tells the Royal Artillery – Mail on Sunday
Brussels threatens charity shops and car boot sales – Daily Mail
Plot to axe British number plates for standardised EU design – Daily Express
Women to be asked intimate details about sex lives in planned EU census – Daily Express
British cheese faces extinction under EU rules – PA News
EU meddlers ban kids on milk rounds – The Sun, The Telegraph
British chocolate to be renamed 'vegelate' under EU rules – Daily Mail
EU to ban church bells – Daily Telegraph
British film producers warn of new EU threat to industry – The Independent
Kilts to be branded womenswear by EU – Daily Record
EU to ban double decker buses – Daily Mail
Cod to be renamed 'Gadus' thanks to EU – Daily Mail
Brussels to restrict drinking habits of Britain's coffee lovers – Daily Express
EU responsible for your hay fever – Daily Mail, The Times
Condom dimensions to be harmonised – Independent on Sunday
EU wants to BAN your photos of the London Eye – Daily Express
Corgis to be banned by EU – Daily Mail
EU forcing cows to wear nappies – Daily Mail
Eurocrats to ban crayons and colouring pencils – The Sun
Smoky bacon crisps face EU ban – Sunday Times
EU outlaws teeth whitening products – Daily Mail
Domain names – '.uk' to be replaced by '.eu' – Daily Mail
Brussels to ban HGV drivers from wearing glasses – The Times
New eggs cannot be called eggs – Daily Mail
EU to ban selling eggs by the dozen – Daily Mail
UK to be forced to adopt continental two pin plug – Daily Star, Daily Mail
EU targets traditional Sunday roast – Sun on Sunday
English Channel to be re-named 'Anglo-French Pond' – Daily Mail
Brussels to force EU flag on England shirts – Daily Mail
EU orders farmers to give toys to pigs – The Times
Firemen's poles outlawed by EU – Daily Mail
Euro ban on food waste means swans cannot be fed – The Observer
Noise regulations to force football goers to wear earplugs – The Sun
Traditional Irish funeral under threat from EU – Daily Telegraph, The Times
EU to ban high-heel shoes for hairdressers – Daily Express
Commission to force fishermen to wear hairnets – Daily Telegraph
Brussels to ban herbal cures – Daily Express
Bureaucrats declare Britain is "not an island"– the Guardian
EU bid to ban life sentences for murderers – Daily Express
New EU map makes Kent part of France – Sunday Telegraph
EU tells Welsh how to grow their leeks – The Times
EU to ban lollipop ladies' sticks – News of the World
EU plot to rename Trafalgar Square & Waterloo station – Daily Express
UK milk 'pinta' threatened by Brussels – The Sun
EU bans 'mince' pies – Daily Mail
Eurocrats say Santa must be a woman – The Sun
Now EU crackpots demand gypsy MPs – Daily Express
Brussels to outlaw mushy peas – The Sun, Daily Mail, Telegraph, Times
Brussels says shellfish must be given rest breaks on journeys – The Times
Pets must be pressure cooked after death – Sunday Telegraph
EU puts speed limit on children's roundabouts – Daily Express
2-for-1 bargains to be scrapped by EU – Daily Mirror
EU madness: chat up bar girl and pub will be fined – Daily Star
Queen to be forced to get her own tea by EU – The Sun
EU tells women to hand in worn-out sex toys – The Sun
British rhubarb to be straight – The Sun
EU to ban rocking horses – The Sun
Scotch whisky rebranded a dangerous chemical by EU – Daily Telegraph
Brussels ban on pints of shandy – The Times
"High up" signs to be put on mountains – BBC
Euronotes cause impotence – Daily Mail
EU to ban under 16-year-olds from using Facebook – Daily Mail
Strawberries must be oval – The Sun
EU orders swings to be pulled down – Daily Express
Tea bags banned from being recycled – BBC
British lav to be replaced with Euro-loo – The Sun
Unwanted Valentine's cards to be defined as sexual harrasment – Daily Telegraph
Bosses to be told what colour carpets to buy by EU – Daily Star
EU says British yoghurt to be renamed 'Fermented Milk Pudding' – Sunday Mirror
EU to ban zipper trousers – The Sun
Full list from Tom Pride