Why You Shouldn't Celebrate The Trump-Kim Summit: James O'Brien
12 June 2018, 14:34
James O'Brien hit out at the "patriots" who are praising Donald Trump's agreement with Kim Jong-Un by reminding people of why this will not be good for Britain.
The US president held the historic summit with the North Korean leader in Singapore today, after months of calling him "Little Rocket Man".
And James pointed to some of Trump's other actions as proof that this is not something to celebrate.
He said: "Kim Jong Un runs a regime that still has concentration camps, comparable to that of Josef Stalin. Death levels in the country are among the highest in the world. Famine is commonplace.
"He's ordered the assassination of this own uncle and his own half-brother, the former killed with a flame-thrower.
"The man is monstrous by any measure and Donald Trump has glad-handed him and bigged him up on the international stage.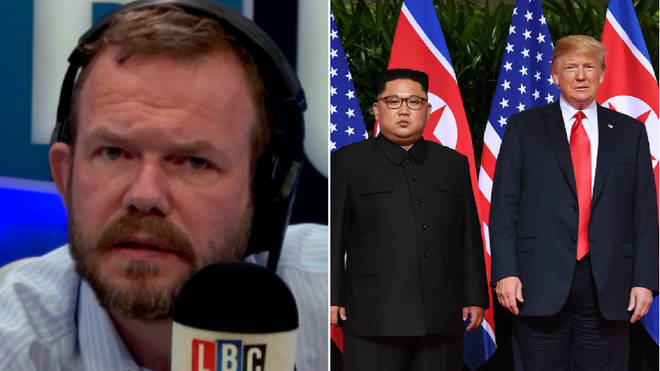 "So Brexit 'patriots' who still have a soft spot for Donald Trump, he is currently insulting our own Prime Minister on the international stage, while cosying up to a man who runs gulags, presides over famines and routinely orders the assassinations of his own family members, let alone countless civilians he's had killed on a whim.
"Let's look at where you are today: I'm telling truth on the radio and you're cheering for a man who has insulted our government, insulted our Prime Minister, responded to an attempt to kill people on our soil by praising the person who ordered it and has now cosied up to the closest you'll see in your lifetime to a Josef Stalin-type leader of a profoundly-secretive and deeply-oppressive regime.
"That's who you've become now."