If James Made This Point In Turkey, He Would Be Jailed For Life
15 May 2018, 13:27
A journalist who was forced to flee Turkey for criticising the government told James O'Brien that his opinion of the Turkish President would see him face imprisonment had he said it in his country.
Kerim Balci came straight from protests outside Downing Street to speak to James, as critics accused the Prime Minister of cosying up to the Turkish President for economic reasons.
Recep Tayyip Edroğan's three day visit to Britain has been met with protests as he meets with Theresa May to discuss a potential post-Brexit trade deal.
Kerim told James O'Brien that suggesting that the government 'has to go' in posts on social media or at family gatherings would be enough to land somebody in prison.
James sought to clarify the point: "I am here now, on national radio in London, and I'm going to say right here, right now.
"Erdogan sounds as close to a dictator as we've seen in Europe in 60 years, the idea that he can lock up journalists essentially without proper process, or trial, is an affront to everything that I, as a British person, hold dear.
"And it's utterly disgusting that our Prime Minsiter is rolling the red carpet out for him without addressing the human rights issues and the continued denial of freedoms.
"At what point in that sentence would I have been carted away for saying this in Istanbul?"
"That would be enough," Kerim replied, "If you had even had a phone call with me."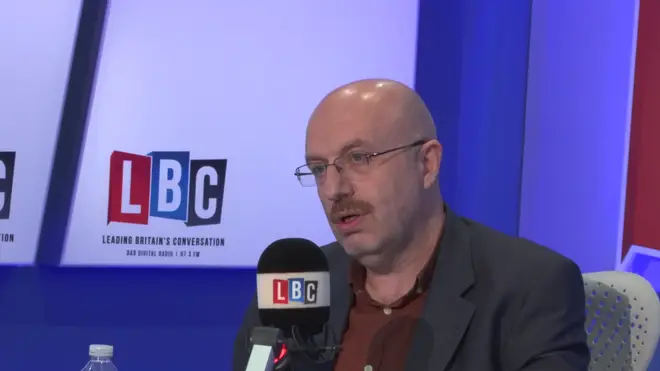 Kerim Balci was a journalist in Turkey for the biggest-selling newspaper in the country, which was taken over by the government.
He was then blacklisted in 2014, forcing him to leave the country.
"The Turkish prosecutor asked for three successive life terms for m because of one YouTube appearance and two columns" he told James yesterday.