"How Farage's Brexit Day Concession Helped Hedge Funds Make A Fortune"
25 June 2018, 11:31 | Updated: 26 June 2018, 07:15
Nigel Farage has described claims he conceded the EU Referendum vote to help hedge funds as "complete tosh".
Kit Chellel is the co-author of Brexit's Big Short: How Pollsters Helped Hedge Funds Beat the Crash, the bombshell investigation which looked into how some people made a fortune on the night of Brexit.
Speaking to James O'Brien, Kit revealed: "One of the inspirations for the story was Nigel Farage's own words on the evening of the Brexit vote in that period between 10pm and midnight, when we didn't have any real data about what was happening.
"He gave an interview to the Press Association in which he talked about his friends in the City of London who had done some big private polling. For us, this idea that a hedge fund could use private polling to inform their trading decisions was fascinating.
"Hedge funds hired some of Britain's best known polling firms to help them make a profit on one of the biggest currency crashes in history, which happened immediately after the country voted to leave the EU.
"Part of the reason they could make a profit on this trade was that the financial markets - like so many people - had got this wrong. They miscalculated the chances of a Leave vote.
"That made it very cheap for hedge funds to trade the pound and increase their potential profits. But they needed to have an accurate gauge of public opinion and that's where the polling firms came in."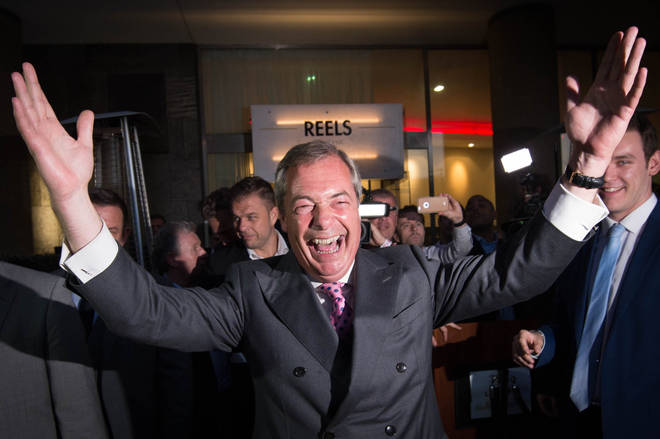 James summed up the tactics: "So the polling firms would have been advising these hedge funds that the vote looked likely to go to Leave. And when it was publicly pronounced that it looked as if it was going to go to Remain, the opportunity to make a ton of money was established."
Kit explained another of their tactics: "If you knew that a polling company would be releasing a public poll at a given time, if you were able to predict in advance what that public poll would say, you could trade off the poll itself. You could know how the market was going to move, based on the poll."
He says that the investigation leaves questions to answer for Nigel Farage, who all but conceded the referendum early on, despite having, what they believe, as accurate private polling information from Survation stating the opposite.
"He changed his story several times," Kit says.
Giving his response on his LBC show, Nigel described the claims as a "complete load of old tosh".
"I'd spent 25 years fighting to get that referendum and desperately wanted to win that referendum," he said.
"At midday [on polling day] a firm called Populus issued a poll that said Remain was 10-points ahead.
"I'd reached the end of my campaign, I'd physically and mentally reached the end of the road. I sank into a deep depression during the course of that afternoon… convincing myself that we'd lose."
Addressing the accusations directly, Nigel finished: "Chaps at Bloomberg it's a wonderful little conspiracy theory, it's all a bit of fun, but it's a complete load of old tosh."