Psychotherapist reveals cause of 'incompetent rage' in incels 'like Boris Johnson'
27 January 2023, 16:14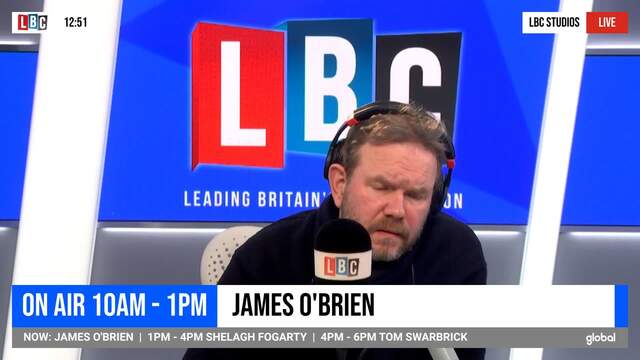 This psychotherapist tells James O'Brien her fantasy group therapy
This James O'Brien caller defines Boris Johnson, Donald Trump, Jeremy Clarkson, and Andrew Tate as incels in her analysis of misogynist rage.
Sarah from Newcastle upon Tyne, who is a psychotherapist who specialises in children and adolescents, told James O'Brien about her fantasy group therapy which she said would include "the likes of" Andrew Tate, Boris Johnson, Jeremy Clarkson, and Donald Trump.
She said: "I want to sit them all down and say to them 'I am really sorry to hear how angry you are that your mummy didn't love you enough.'"
READ MORE: James O'Brien: 'Andrew Potato' is the 'worst kind of misogynist'
It comes as a rising number of radical misogynists - known as 'incels' - are being referred to the counter-terrorism scheme and are becoming an "emerging threat".
The caller summarised incels as displaying "incompetent rage".
Sarah then went on to compare Andrew Tate and Boris Johnson to "young adults" who are screaming out about why nobody "cares" about them.
After she said to James that it was "parents" who were to blame for this, he stopped her.
He said: "It's about nurture, it's not about parents.
"I have the best parents in the world but the brutal boarding school I went to left me with some of the issues you describe and I suspect some of the same applies to Jeremy Clarkson," James said honestly.
READ MORE: 'Incels encourage each other to do exactly what Jake Davison has done'
Sarah later said that "it's like when a toddler having a tantrum in the middle of the room saying 'why can't I have what I want!'"- to which James replied: "Well that's Boris Johnson."
She continued: "Exactly it's like 'I want that woman, why can't I have her that's not fair'."
Sarah concluded by saying that at the very end of the extreme, they get what they want by "overpowering" women.
READ MORE: Taxpayers to shell out at least £222,000 for Boris Johnson's Partygate legal fees