James O'Brien challenges this caller who believes Putin doesn't 'want war'
9 February 2023, 12:57
James O'Brien challenges this caller who thinks Vladimir Putin doesn't want war
In this heated exchange, a caller attempted to explain why he didn't feel Vladimir Putin wanted to invade Ukraine, much to James O'Brien's disbelief and frustration.
The call got off to a bumpy start after Akhtar in Tower Hamlets said: "I think we all agree, nobody wants war", leading James O'Brien to promptly correct him.
"Just to pause you there, sorry, Vladimir Putin does", he said.
The caller continued: "I don't think Vladimir Putin wants war. The narrative I think that we all seem to be getting or being pushed is 'Vladimir Putin is evil and he wants more of the war and he invaded Ukraine'. I get all of that..."
"That's not a narrative", James interjected. "Maybe the 'evil' bit is a narrative but if he doesn't want a war you are at some point in our conversation going to have to answer the question of why he keeps starting them."
READ MORE: UK is 'sleepwalking towards an utter disaster' with Russia, warns Tom Swarbrick caller
Akhtar replied: "The point I'm trying to make is don't think people understand why he's been provoked to invade Ukraine the way he did.
"You're pushing NATO on his borders! I mean, why not open up the diplomacy why not talk about the agreements or the promises made not to expand NATO? Nobody talks about that."
"Well, they do. They do talk about that", James said, to which his caller responded: "Let me finish James!"
"No I won't let you finish because you literally said why does nobody ever talk about that, and I tried to start talking about it and you told me to shut up!" he replied.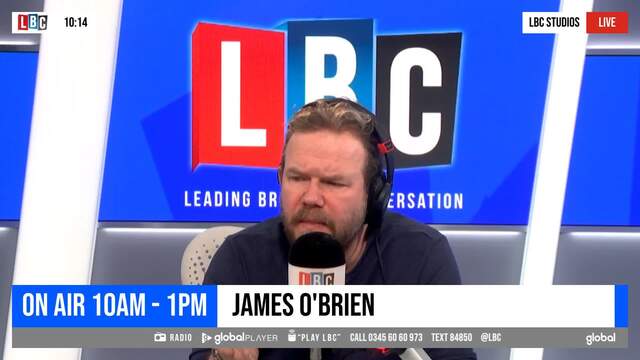 James O'Brien reflects on what world would look like if Putin had taken Kyiv in two or three days
Following an intense back and forth, the caller in Tower Hamlets said he had no problem "at all" with the autonomy of Ukraine.
"So it's up to Ukraine whether or not they join NATO, not Vladimir Putin surely", James said, adding, "that's what being a sovereign nation means".
As his caller reiterated his point on NATO expansion being part of the reason behind Russia's invasion, James brought up the Budapest Memorandum, which saw Ukraine give up its nuclear weapons in exchange for protection from the West in the event of aggression from Russia.
READ MORE: 'He's the best': Ukrainians react to Zelenskyy's visit to the UK
"So now there's aggression from Russia - why should we abandon the pledges that we made in the Budapest Memorandum?" he asked.
Akhtar struggled to give an answer that James would find satisfactory, leading James to declare that he was "falling to pieces in the most embarrassing fashion".