James O'Brien's Epic Response To Today's Daily Mail Front Page
2 August 2017, 12:15 | Updated: 2 August 2017, 12:51
The front page of today's Daily Mail laments EU airports for imposing tougher border controls, a criticism that has left James O'Brien absolutely astonished.
"Holidaymakers queue for hours as Brussels imposes tough passport checks - and British families suffer most" the front page reads.
The Mail has previously complained that the UK's borders were "wide open" and has raised concerns about the number of migrants coming to Britain.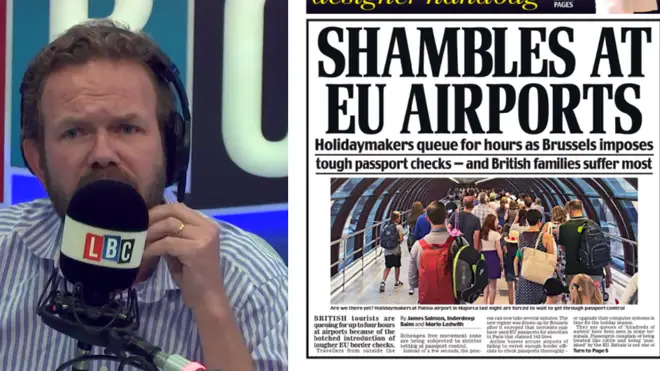 Read more: Britons face airport delays due to new EU security rules
EU countries now carry out tougher checks on passengers entering or leaving the Schengen area following the terror attacks in Paris and Brussels.
It's left some passengers queuing for up to four hours at airports this week.
But how can you have tougher border controls, without having, well, tougher border controls? That's the point James was keen to make.
"Satire just died, didn't it?" the LBC presenter said as he began to right some wrongs with the front page.
"How the flibbertigibbet did you think you were going to get controlled borders without spending more time looking at more people's travel documents?"
Watch James' epic take at the top of this page.