James O'Brien's Key Point On The Sun's Brexit-Inspired Tapestry
18 January 2018, 13:39 | Updated: 18 January 2018, 13:50
The Sun has created its very own Brexit-inspired Bayeux Tapestry which depicts the story of Britain's departure from the EU, and this is James O'Brien's analysis.
The tabloid produced the mock up after it was reported that France would allow the release of the Bayeux Tapestry for the first time in 950 years.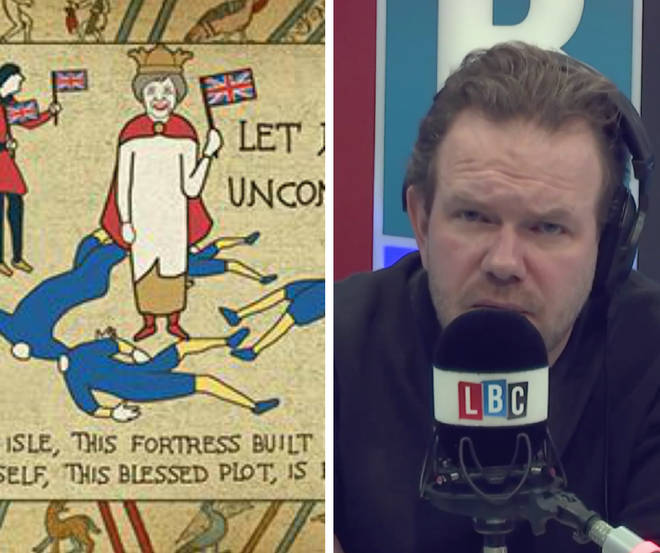 The 11th Century artwork depicts the Norman Conquest of England, including the Battle of Hastings and the defeat of Harold in 1066.
The Sun's "Bye-EU" design tells the story of Brexit, starting with David Cameron's pre-referendum negotiations with the bloc finishing with Theresa May waving a British flag next to three headless figures.
Giving his verdict on LBC, James said: "Just for pause, because everyone likes a giggle, how do you think we would cover a French or a German newspaper depicting Theresa May, Philip Hammond, David Davis, Liam Fox and Boris Johnson as having had their heads chopped off?
"That's all, I'm not asking whether it's right or wrong, good or bad, but this whole thing only begins to make sense if you accept this perception of European countries, European neighbours, European people as somehow being our enemies.
"Which historically isn't an unfair position to take, there has been war in continental Europe and often involving us for hundreds of years - which is why Winston Churchill loved the idea of a European Union so much, to stop those wars."
Watch James' analysis in full in the video above.