James O'Brien's Most Epic Clips Of 2016
22 December 2016, 11:40 | Updated: 25 December 2016, 08:16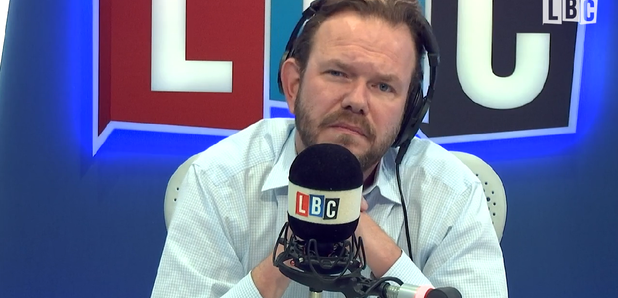 It has been a very special year for James O'Brien - he was labelled the man who made radio viral. These are the most remarkable moments from his LBC show this year.
It's often felt that James has been swimming on his own against the tide, as he railed against the perceived wisdom of the right-wing media. And each time, he's been proved right.
When he forced the government into a U-turn
In October, Amber Rudd announced plans to make companies list all the foreigners working for them. James read out a section of the Home Secretary's speech. But all was not as it seemed.
Two days - and over 4million views later - Ms Rudd quietly dropped her plans and newspapers credited that to James's clip.
The clip that introduced post-Brexit hate crimes
Karin is a German woman, who has lived in Chester for over 40 years. But just days after the Brexit vote, she called James in tears, saying that she is scared to leave her house after it was vandalised.
This call will live long in the memory.
James's epic monologue after the murder of Jo Cox
On a Thursday afternoon in June the week before the EU Referendum, Labour MP Jo Cox was killed on the streets of her constituency. The next morning, the microphone came on and James gave one of his most powerful monologues to date.
He discussed how the politics of hate had led to this moment, how months of headlines about the effect of immigrants caused it. As the Independent commented: "Every word of this is vital."
"Which EU Law Are You Most Looking Forward To Getting Rid Of?"
This was the call that really shot James into the public eye. Ashley in Pinner phoned up, saying he voted to leave the EU to get rid of the bureaucratic laws that are forced upon us. So surely he could name just one law, couldn't he?
After giggling about straight bananas, you can pinpoint the moment when Ashley realises that he's made a big mistake.
When James took aim at the newspapers
James thinks the right-wing newspapers must burden a lot of the blame for things that have happened in 2016. So when The Sun listed some of the hate crimes and said that they were unacceptable. But that's not what they said the day before...
When he reacted to the Berlin truck attack with a key point
The most recent video from James's show to go viral.
More than 1m people have now watched his reminder that the best weapon against the hate of ISIS is a simple one: opening our arms to refugees.