James O'Brien's Must-Watch Monologue On Amber Rudd And Theresa May
30 April 2018, 10:37 | Updated: 30 April 2018, 10:42
James O'Brien simply can't understand how Amber Rudd has been forced to resign for presiding over a scandal caused by Theresa May - and yet the Prime Minister holds on.
Ms Rudd handed in her resignation last night after admitting to misleading parliament over on immigrant removal targets.
That was part of a "hostile environment policy" that Mrs May introduced during her time in the Home Office.
And in his passionate monologue, James insisted there is no reason for Rudd to go, but May to stay.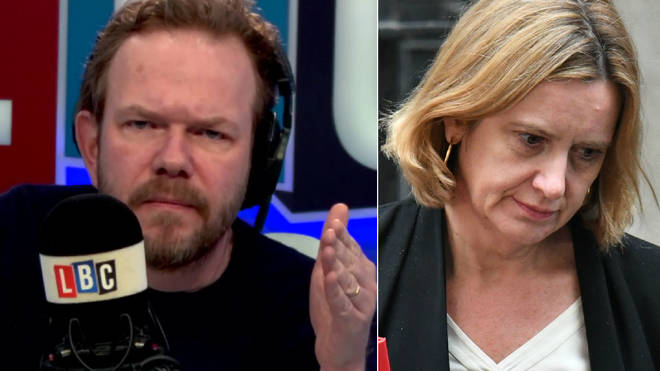 Speaking on his LBC show, James said: "We have a Prime Minister, who as Home Secretary, brought in hostile environment policies and an obsession with immigration targets.
"How can she still be in a job when her successor in the Home Office, who essentially presided over what she inherited and ended up in hot water.
"This is the really grim bit. She hasn't gone because of what she did to men and women who have lived here for four or five or six decades in peaceful, law-abiding, tax-paying harmony, but ended up being locked up, thrown out of their jobs, facing eviction from their homes, losing healthcare which they expected to be provided by a system into which they had paid for decades.
"She hasn't resigned because of what she did to them. Don't make that mistake.
"She has resigned solely and exclusively because she got busted completely lying to the House of Commons."