Number 10 DID Know About Priti Patel's Israel Meetings, Journalist Reveals
8 November 2017, 11:37 | Updated: 8 November 2017, 12:18
The imminent sacking of cabinet minister Priti Patel took another turn this morning when a journalist revealed Theresa May's office did know about her meetings in Israel.
Stephen Pollard wrote in the Jewish Chronicle that an aide at Number 10 had told Ms Patel not to include the meeting in her update on Monday to avoid embarrassing the Foreign and Commonwealth Office.
He told James O'Brien that there were some odd questions about the whole story: "The idea that Number 10 was unaware of some of the ideas that Priti Patel was discussing to do with sharing British aid with Israel was nonsense, because I had been told about it early last week, long before the story broke, and Number 10 had signed off on it.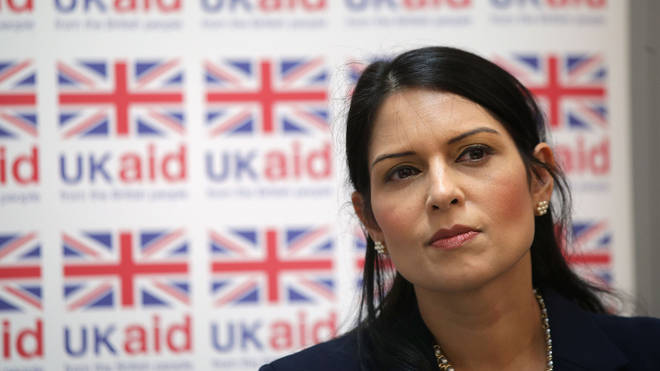 "I had two separate sources get in touch with me saying in a meeting that the Prime Minister held in September, Priti Patel discussed with Mrs May the idea of sharing aid with Israel and that she had met with Benjamin Netanyahu to discuss this.
"So at the very least, it was clear that the Prime Minister knew in September. That's 100% certain.
"What is 99% certain is that she knew on the day of the meeting. In the official meeting notes for Middle East Minister Alistair Burt in the country, it is mentioned that Priti Patel had a successful meeting with Benjamin Netanyahu.
"That means it's stone-cold certain the Foreign Office knew of the meeting. And I'm told that the information was then conveyed to Number 10.
"But it's the third part of this story I found most shocking. On Monday, Priti Patel released a statement in which she listed 12 meetings that she'd had that weren't authorised when she was in Israel.
"Last night, it emerged that there were two more meetings - and that appears to be what's done for Priti Patel, that she supposedly didn't come clean to Number 10, even though my sources tell me that Number 10 knew.
"But what I then found out Priti Patel mentioned that meeting and that Number 10 told her not to put that meeting on the list because it would embarrass the Foreign Office. That is jaw-dropping."
A Downing Street spokesperson responded: "It is not true that the Prime Minister knew about the International Development Secretary's meeting with PM Netanyahu before Friday 3rd November.
"It is equally untrue to say that No 10 asked DfID to remove any meetings from the list they published this week."