'People say oh god, not that 30p racist': Councillor 'disgusted' to represent deputy chair Lee Anderson's constituency
8 February 2023, 12:17 | Updated: 8 February 2023, 12:47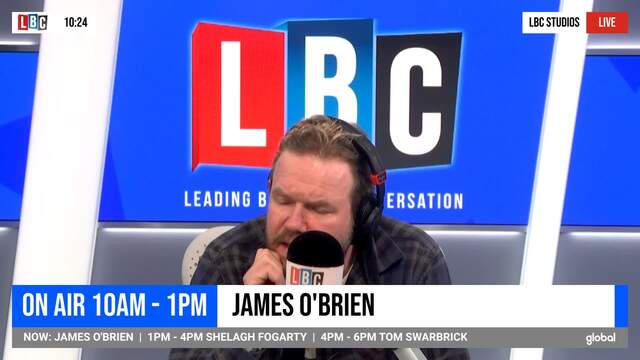 Councillor in 'Trigger' Lee Anderson's constituency slams new Conservative Party deputy chairman
This councillor in 'Trigger' Lee Anderson's constituency brands the new Conservative Party deputy chairman an 'absolute embarrassment'.
David from Ashfield immediately informed James O'Brien he was "disgusted" after Lee Anderson was appointed as the new Tory deputy chairman.
He said: "Lee Anderson is an embarrassment. He doesn't represent Ashfield he doesn't represent the working class and quite frankly I've been speaking to many residents in Ashfeild in the ward I represent Central and Newcross and they're absolutely disgusted."
Mr. Anderson has been the member for Ashfield since 2019. He was nicknamed "30p Lee" by fellow backbenchers for his spendthrift advice during the cost of living crisis.
Anderson's promotion came as Rishi Sunak sought to give his government a facelift, creating four new government departments and replacing ex-party chairman Nadhim Zahawi with Greg Hands.
READ more: New Tory Party Chairman defends decision to to appoint controversial MP Lee Anderson as his deputy
James asked whether the "disgust" was due to his existence or promotion in particular.
David replied: "This has been ongoing since he was elected and to be put in a position where he is somehow in charge of some sort of election strategy let me tell your listeners that since Anderson was elected we've lost every single county councilor in Ashfield...that's what people think of Lee Anderson."
He later went on to say to James: "I'm embarrassed to represent Ashfield - when I go around the country and speak to people and say I'm from Ashfield they just sort of look at me and go 'oh my god, not that 30p racist'".
READ more: Rishi Sunak appoints firebrand Red Wall MP Lee Anderson deputy party chairman in mini-reshuffle