'Secretary of State for Pointless Culture Wars': James O'Brien jabs at Kemi Badenoch in Cabinet reshuffle
7 February 2023, 13:16
James O'Brien isn't impressed by the latest Tory Cabinet reshuffle...
James O'Brien gave his reaction to the latest Cabinet reshuffle, jabbing at Grant Shapps and Kemi Badenoch.
"I have the details of the reshuffle for you, are you interested? Nahh, well I'll tell you anyway", James said, before reading from the Downing Street press release and adding some commentary of his own.
"His Majesty The King has been pleased to approve the following appointments:
"The Rt Hon Grant Shapps MP (aka Michael Green, Sebastian Fox) is Secretary of State for Energy Security and Net Zero", James said, swiping at the various pseudonyms used by the former Business Secretary in the past."
READ MORE: James O'Brien breaks down 'biggest milestones in national decline' after Nadhim Zahawi tax row
James continued: "The Rt Hon Michelle Donelan MP is Secretary of State for Science, Innovation and Technology."
Unable to resist a jab, he went on: "The Rt Hon Kemi Badenoch MP is Secretary of State for Pointless Culture Wars. I beg your pardon - for Business and Trade.
"She's also Minister for Women and Equalities which is epic trolling."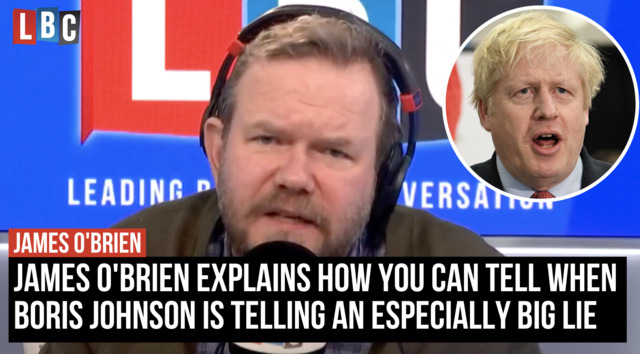 James O'Brien explains how you can tell when Boris Johnson is telling an especially big lie
"Lucy Frazer as Secretary of State for Culture, Media, and Sport", James continued.
James then added.: "Greg Hands - Minister without Portfolio in the Cabinet Office - and he becomes Party Chair after that particular post was vacated by Nadhim Zahawi who didn't just tell porky pies about his tax affairs but actually threatened to sue people who were telling the truth about them.
READ MORE: Rishi Sunak sacks Nadhim Zahawi as Tory chairman after multi-million pound tax row
"Onwards and upwards!"