James O'Brien breaks down 'biggest milestones in national decline' after Nadhim Zahawi tax row
23 January 2023, 16:21 | Updated: 23 January 2023, 16:25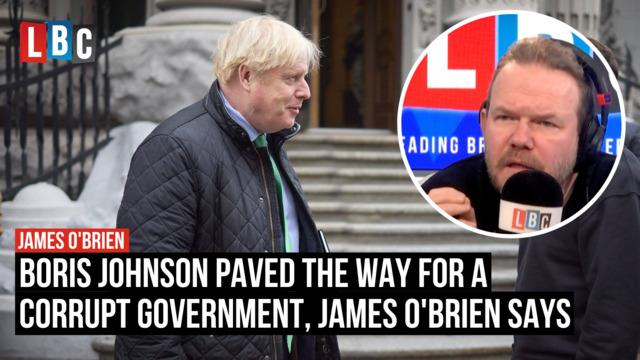 James O'Brien eviscerates the corrupted post-Boris Johnson government
After Tory Party Chairman Nadhim Zahawi claimed he made a "careless not deliberate error" in his taxes, James O'Brien examined "how far we have fallen" in politics since Boris Johnson's time as Prime Minister.
James O'Brien took his listeners back through history, recounting a number of scandals in the Conservative Party since Boris Johnson's time in power, and gave another blistering response to Nadhim Zahawi's tax affairs.
James said: "The longer he refuses to talk about this, the bigger the risk that speculations may end up reaching places that are actually more egregious than the reality."
READ MORE: 'Clearly there's questions that need answering': Sunak orders ethics adviser to investigate Zahawi tax case
He then doubted that, saying: "It seems to me to be career-ending, or should be career-ending, when you threaten to sue people for reporting things that subsequently turn out to be correct."
James was referring to the legal action threatened against The Independent if they revealed he was being investigated.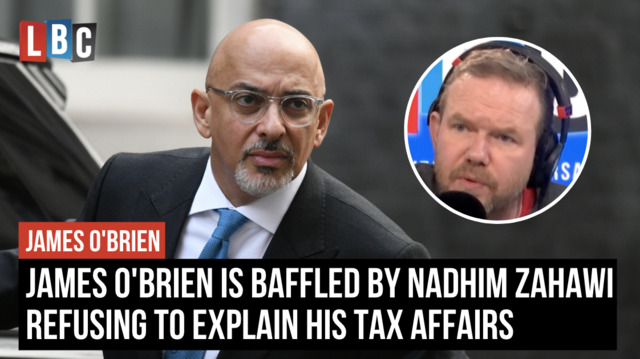 James O'Brien is baffled by Nadhim Zahawi refusing to answer questions on his tax affairs
He said the tax story "stank to high heaven", calling it "unforgivable" and "cultish" to defend him despite the "good job" Mr Zahawi did in a previous post as Vaccines Minister.
He "avoided paying three or four million pounds in tax and was preparing to take up the chains of office as the head of the Treasury", James remarked, saying this is something that typically happens in "countries we used to somewhat condescendingly sneer at".
James was astounded at "the idea that you could not only be consciously seeking to avoid paying an epic amount of tax that you were due to pay…into the Treasury that you are seeking to become the head of, you will also attempt to cover up what you were doing by frightening off people looking into it with threats of incredibly expensive and injurious legal action."
James brought up "the biggest milestones in our national decline", including the messages between Mr Zahawi and David Cameron during a lobbying scandal, Owen Paterson's resignation as MP following his breach of lobbying rules, and Dominic Cummings' "ludicrous" explanation of how he did not break lockdown rules.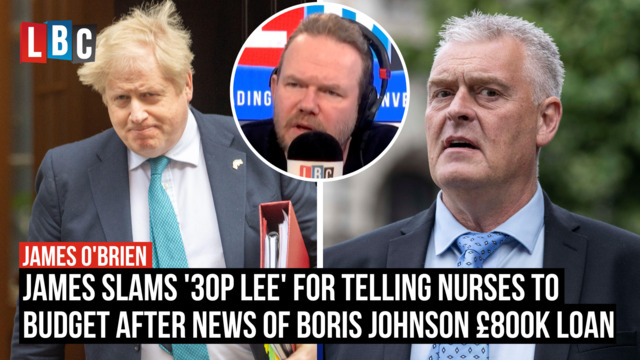 James O'Brien delivers a scathing reaction to Boris Johnson's reported £800k loan
James blasted "this corruption, this casual approach to principle and integrity", lamenting "how far we have fallen" in politics.
He traced it back to how Boris Johnson has "completely corrupted the political space", saying Mr Cummings' speech might have been "a consequence of him exercising leverage on a completely compromised prime minister…so compromised, that he needed a distant cousin to guarantee an £800,000 loan that was brokered in part by a man who he subsequently put in charge of the BBC".
READ MORE: Boris accuses BBC of 'disappearing up its own fundament' over claims chief helped ex-PM secure £800,000 loan
James pointed out that this is "a job you're not even allowed to apply for" in case "there's any danger of a conflict of interest popping up in your back catalogue".
"We live now in a corrupted country, a failed state morally", he said, blasting Mr Johnson for going to Ukraine yesterday in a surprise visit, using it as a "dead cat" to distract attention away from the "travails and tribulations at home" - "so overarching is the man's ego!".
"The highest offices in the land used to demand the highest standards", James finished.