Tragic Caller Was On Phone To His Trapped Mum When She Perished In Grenfell Tower
19 June 2017, 13:53 | Updated: 19 June 2017, 14:33
During this heartbreaking conversation, Shah told James O'Brien how he was on the phone to his trapped mother when she succumb to the fumes during the Grenfell Tower fire.
The LBC caller tragically explained how both his panicked mother and aunt were stuck on the 23rd of the high-rise when the blaze tore through the building.
"I got a call saying 'why isn't anyone helping us' they were given the wrong information," Shah began.
"They were told to go back to their flats, [she said] 'the floor is hot, it's hot'.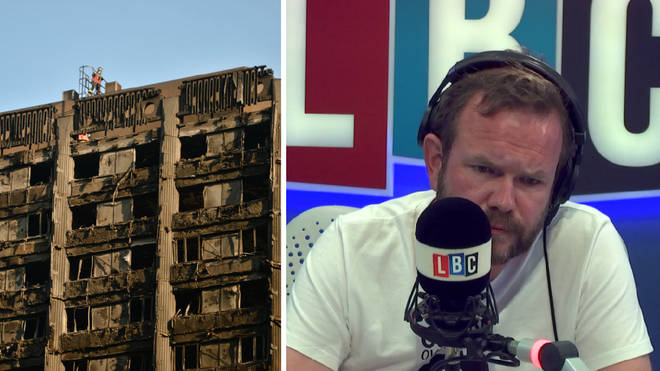 The caller said how his mum told him to stay away as Shah attempted to rush towards the fire-ravaged flats to help.
"I kept telling them to put some sort of wet clothes over themselves and wet themselves with water so the fire wouldn't affect them.
"I was trying to keep them calm and the smoke suddenly got them. I heard every last breath she took.
Devastating, gut-wrenching call on @lbc from Shah who was on phone with mum as she succumbed to smoke in #Grenfell. His plea "no cover up".

— Liz Clements (@LizClements) June 19, 2017
"The smoke got them and I could hear them wheezing. She couldn't talk anymore."
The number of people killed in the Grenfell Tower fire has risen to 79 - but police say that number could change further.
Speaking on Monday, Met Police Commander Stuart Cundy said five people have been formally identified, but warned that some victims may never be identified.
Moving call from man, Shah, who lost mother at Grenfell on @lbc / tells @mrjamesob "we don't have much voice in this city, God bless you"

— Aaron Bastani (@AaronBastani) June 19, 2017
"The awful reality is, as I've said before, is that due to the intensity of the fire and the devastation within Grenfell Tower that we may not be able to identify everybody that died," he said.
"We have been from the top to the bottom of Grenfell Tower.
"The search operation will be painstaking and having been in there myself it's really hard to describe the devastation that the fire has caused."