Why Trades Unions Are So Important, By James O'Brien
21 December 2016, 12:04 | Updated: 21 December 2016, 12:06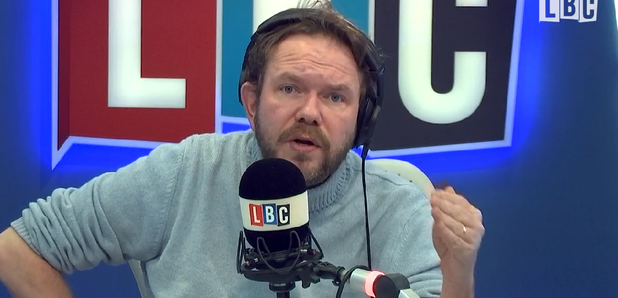 The proposed airport strike shows why trades unions are so important. This passionate piece by James O'Brien explains why.
Ground staff had voted for industrial action over Christmas and it was front page news.
But their employers Swissport came back with a better pay deal and the strike was called off - something that was barely mentioned in the newspapers.
James O'Brien says this shows exactly why the union's collective bargaining power is so important.
He said: "For some people that utterly successful indoctrination campaign by Rupert Murdoch and his acolytes on Fleet Street is still working. You still have this sort of hangover of hatred towards collective bargaining, which is partly why some journalist won't have told you today that the 48-hour strike by ground staff at airports is being called off.
"Are you aware of that? Because when they were planning to go on strike, it was on the front pages and we were all shouting about it. Now that their threatened industrial action or their collective bargaining power has been recognised, Swissport have come in with a better pay deal and the industrial action is being called off.
"So all the videos that we've watched recently, all the conversations that we've had about people working in Amazon's warehouses or J.D. Sport's warehouses, sleeping in tents outside, being frightened of going off sick even with a doctor's note because it can result in disciplinary action.
"The fellow in Mitcham who told me that really he runs all day when he's on shift because the gap between the aisles is so huge and he's got to do X number of units per hour and if he doesn't he get stuck on a disciplinary, and the woman who gave birth in a lavatory because she was so frightened of not getting shifts if she didn't turn up for work despite being heavily pregnant.
"And I can go on and on and on and on and on.
"And then the so-called Gig Economy. Gig Economy? Trying to make indentured labour sound like you're Mick Jagger performing at Wembley Stadium. Gig Economy my backside. It's not a gig economy. It's a beggars can't be choosers economy.
"You'll be grateful for what you've got, you'll be thankful for the two hours that we've given you today, don't complain about the other six you thought you were going to get. And by the way don't bother coming in tomorrow because you've got a runny nose and I don't like the color of your socks.
"That's the country we're creating at the moment. And when the rail strikers flex their muscles, it spooks the government in a way that's really interesting."