Caller tells LBC he was 'fundamentally sacked' as a civil servant for phone call to James O'Brien
23 January 2023, 13:08 | Updated: 23 January 2023, 15:28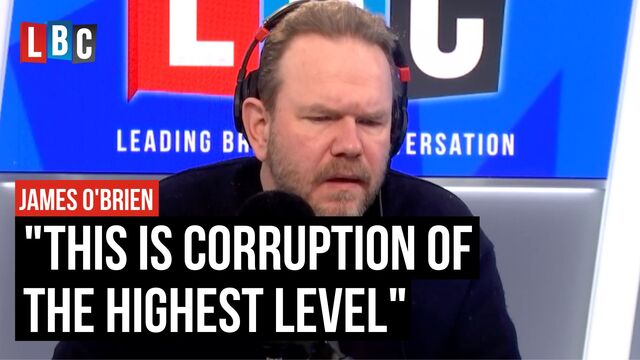 Caller tells LBC he was 'fundamentally sacked' as a civil servant for phone call to James O'Brien
This is the moment a LBC caller told James O'Brien he was "fundamentally sacked" as a civil servant for a phone call he made to the LBC presenter last year.
Stuart in Finchley previously spoke to James on July 5th 2022, in a call where he called for Cabinet Secretary Simon Case and the 10 Downing Street press office to resign.
Referring to that previous call to James, Stuart said: "The reason for my call that day was a heartfelt plea to senior civil servants in 10 Downing Street and the Cabinet Office to stop facilitating corrupt practices."
Stuart then went on to say: "Following that phone call, I was suspended from duties as a civil servant."
He added: "I was suspended for three months while an investigation was ongoing.
"Throughout that investigation, I was made to feel like a traitor or an enemy of the state. That's how I felt.
"And ultimately, I was sacked following a three month investigation."
Stuart then told James he was sacked from his position in the civil service for his call to James.
He also said: "It wasn't quite as straightforward as that. I'm honest enough to say that following the phone call I wrote an email to Simon Case - the Cabinet Secretary - urging him to listen to what I said. I wanted him to hear it.
"So I emailed the Cabinet Secretary. And in that email, I used some language I'm not proud of.
He added: "I'll be honest in saying that that was unprofessional, the manner which I brought the call to Simon Case's attention."
Stuart then said: "But primarily the reason I was fundamentally sacked was for the phone call that I made, which was judged to be a breach of the civil service code."
In response, James said: "Although you were telling me in detail about how Number 10 kept changing their story, how they would deploy press officers to do it, how they used ambiguous language and Dominic Raab in particular with reference to the Chris Pincher story appeared to be saying things to the media that were and have subsequently been shown to be demonstrably untrue."
Stuart said: "I stand by my phone call that day and what I did. I don't regret it in the slightest."
"I'm glad to hear that," said James.
Later in the exchange, Stuart told James that although he lost his job but that nothing has changed.
He told James: "If I had done what I'd done, lost my job and things had changed - you know what? I could have lived with that.
"But the fact I've done what I've done and lost my job because of it and yet nothing has changed. Nothing has changed.
"And I'm back on again today six months later to tell your listeners we need to wake up now to this.
"This is corruption of the highest level. And we cannot accept this anymore."
Stuart later told James that he's managed to find another job and that his employer has been "very supportive".