Foreign aid is 'valuable' but David Lammy is right to not prioritise an increase now, ex-minster says
25 January 2023, 15:04 | Updated: 25 January 2023, 16:07
Baroness Featherstone, phones into James O'Brien's show to stress the importance of foreign aid
After David Lammy said Labour won't commit to increased international aid Baroness Lynne Featherstone explains why foreign aid is so valuable.
James O'Brien sought the opinion of those with first-hand insight into foreign aid in his phone and he struck gold as Baroness Lynne Featherstone called LBC to weigh in on the conversation.
David Lammy has said it would be "irresponsible" to commit to spending 0.7 per cent of national spending on international aid.
Baroness Featherstone who was formerly a minister in The Department for International Development, started by telling James: "It is so amazing to hear anyone on the radio talk about what the actuality of what the International Development Programme does as opposed to the political spin that goes on."
She told James that the "political spin" she referred to is prevalent "mostly in the right-wing press".
"Having been a minister for two years in The Department for International Development, I was in charge of many things including Sub-Saharan Africa which is so poor and so challenging.
"I went to over thirty countries and the work that DIFD did was amazing and the soft power it gave us was tremendous," she insisted.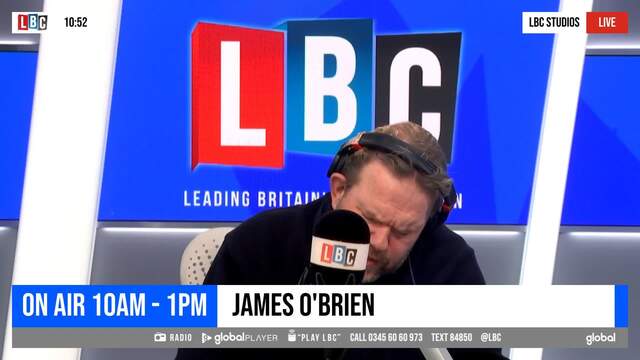 James O'Brien hears foreign aid argument from Baroness Featherstone
"And as some of your callers have said if you're interested in people staying in their own countries there's no better way than to make their country viable," she declared.
James quizzed: "How do you feel then about David Lammy's insistence yesterday that it would be irresponsible to pledge a return to the 0.7 per cent threshold?"
"Labour are being very responsible at the moment... they're on their very best behaviour," came her reply.
The Baroness said she's "sure" that in a different time, Mr Lammy would have said, "stick to 0.7".
She went on to say that foreign aid is "an investment for the political climate for which the Labour party are trying to get into government".
The positive impacts of foreign aid include saving "women from being beaten to a pulp" and "homosexuals from being murdered" she explained.
"You're enabling people to feed themselves, to deal with childbirth and disease and to arm themselves against climate change which is absolutely desiccating the hottest areas on earth."
READ MORE: Sir Keir Starmer blasts Sunak as 'too weak' to sack Zahawi over tax affairs at fiery PMQs
She continued to argue that migration will increase if we don't help to teach countries to irrigate and preserve water because "water is in ever short of supply".