'Jailing police for sharing pictures of my murdered daughters will change the culture'
7 December 2021, 13:06 | Updated: 7 December 2021, 13:22
The mother of two sisters murdered in a London park told James O'Brien on LBC today of her 'disgust' at two police officers who took pictures of their dead bodies and shared them with colleagues.
Mina Smallman told James that she believed the fact two officers had been jailed would spark a change in police culture, saying what happened was not a 'one-off'.
"You can't image losing two daughters on the same day, that anything could be worse than that," she said.
But when they learned pictures had been taken and shared of her daughters' bodies "we sank to a low that you couldn't even imagine."
She said police were alerted to the existence of the pictures by a whistleblower and she urged people to "have a look" at the title of the WhatsApp group where the pictures were shared.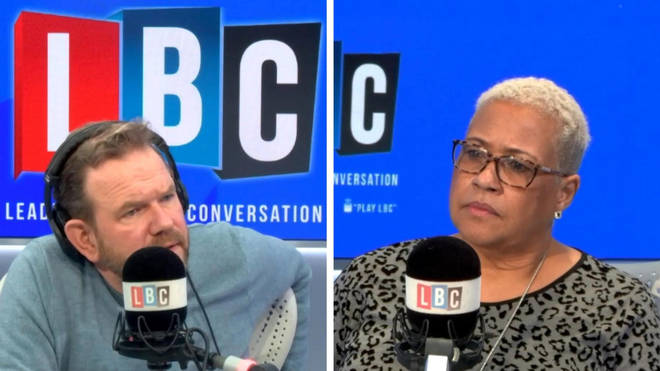 "You just can't believe it," she said.
"When you get a sense of how prevalent this is, this isn't a one-off. I object to it being said that this is one rotten apple.
"This behaviour is not uncommon, it's commonplace and the fact that we managed to get it to the Old Bailey and for it to be custodial, I think is going to change the culture."
She said that learning that police had taken photos of her daughters' dead bodies filled her with 'disgust'.
Pc Deniz Jaffer and Pc Jamie Lewis both pleaded guilty to misconduct in a public office and were sentenced to two years and nine months each yesterday.
Last month, a tribunal found the officers committed gross misconduct.
The Met has apologised over the incident.
Lewis was dismissed from the Met immediately, and Jaffer would have been sacked, had he not already quit the force.
They were assigned to guard the crime scene overnight after Ms Henry, 46, and Ms Smallman, 27, were found dead in bushes in Fryent Country Park, Wembley, north-west London.
Instead, they breached the cordon to take "inappropriate" and "unauthorised" photographs of the bodies, which were then shared on WhatsApp.