Professor Brian Cox's Beautiful Tribute To Stephen Hawking
14 March 2018, 10:37 | Updated: 14 March 2018, 11:16
LBC listeners were left in tears by Professor Brian Cox's beautiful tribute to Stephen Hawking.
Hawking died peacefully in his sleep last night, aged 76, despite being given just two years to live when diagnosed with motor neurone disease in his 20s.
Brian Cox is famed for making complicated scientific principles seem easy to understand for the masses and he explained to James O'Brien why Mr Hawking is so renowned around the globe.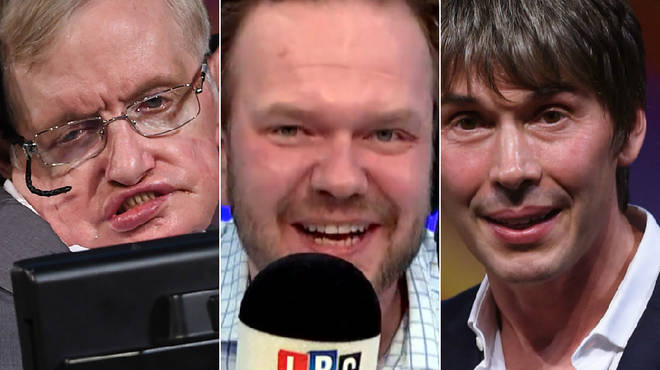 Brian told James: "He is rightly described as one of the greats. He firmly believed that public engagement of science, describing what we do as scientists, is not only valuable, but necessary.
"I got to know him later in life and he was very funny.
"One thing I did with him was Monty Python at the O2. Eric Idle asked me if I could get Stephen to do a sketch with them so I emailed him and within about a minute, an email came back from Stephen saying yes.
"We went down to Cambridge for it. I'm always criticising in a gentle way Eric's songs because they're not really accurate. There's a song called the Galaxy Song which talks about the Earth going around the Sun in a circle. And I say it's not a circle, it's an elipse. It's inaccurate.
"So Eric came up with this sketch where I would be criticising the Galaxy Song and then in the background, there is a spec coming past King's College and it's Stephen in his wheelchair and he runs me over and says 'I think you're being pedantic' and Stephen starts singing the Galaxy Song.
"The 'I think you're being pedantic' was an ad lib and he did it with perfect comic timing.
"He's not just this dusty scientist."
LBC listeners loved the interview, tweeting:
A Nobel laureate, Professor Brian Cox, on Professor Stephen Hawking on @mrjamesob show. In tears. Radio Broadcasting at its finest.

— Ty Patterson (@pattersonty67) March 14, 2018
One listeners even wrote: "Professor Brian Cox is bringing me to tears talking about Stephen Hawking with James O'Brien on LBC this morning. Thanks guys, and thank you Stephen."