James O'Brien questions government priorities after calls to clamp down on laughing gas
26 January 2023, 12:22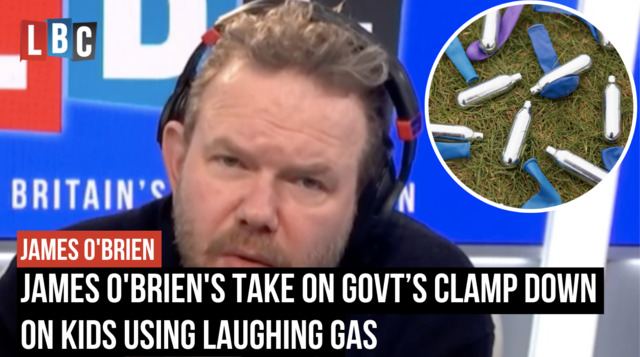 James O'Brien gives his take on the government's plan to clamp down on kids using laughing gas
After news that the government will turn its attention towards clamping down on laughing gas, James O'Brien asked his listeners what "wisdom" there was in this latest move, given the latest controversies surrounding Nadhim Zahawi and Boris Johnson.
James O'Brien tried to understand the government's decision to crack down on people using laughing gas, amid more scandals rocking the Conservative Party.
READ MORE: 'Clearly there's questions that need answering': Sunak orders ethics adviser to investigate Zahawi tax case
"I want to know whether it is evidence of even more stupidity in the heart of government" he brutally swiped after Policing Minister Chris Philp called for a review of drug use as part of the government's anti-social behaviour strategy.
If it is made illegal, laughing gas could be classified similarly to Class C drugs, meaning up to two years in prison for possession or up to 14 years and an unlimited fine for supplying it.
READ MORE: The end of legal laughing gas: New law will ban possession of 'hippy crack' and tackle antisocial behaviour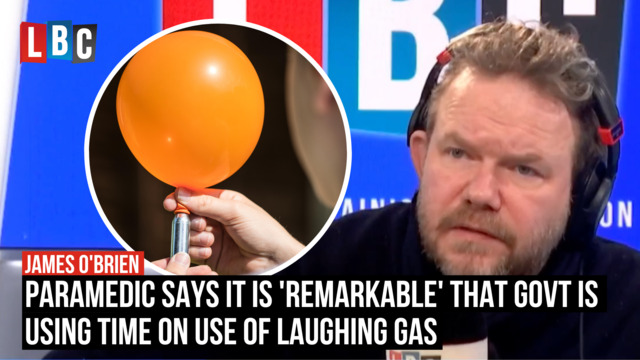 JOB: Laughing gas ban is 'politically very very strange'
"If I were Rishi Sunak and I were putting together a to-do list…I'd probably have quite a lot on my to-do list above 'let's ban laughing gas lads!'" he said.
James listed firing tax avoiders, bullies, the cost of living crisis and "stopping these nonsensical drives towards so-called red tape bonfires" as examples of things the government should prioritise ahead of laughing gas.
"If you're looking for anti-social behaviour, you could start with Dominic Raab, couldn't you, rather than some kids chugging nitrous oxide at the weekend!" he jabbed.
READ MORE: Boris accuses BBC of 'disappearing up its own fundament' over claims chief helped ex-PM secure £800,000 loan
"Where would you start if you were keen to address the problems of anti-social behaviour in this country?" James asked.
"Would you start with Dominic Raab and Nadine Dorries or would you start with kids chugging NOS at the weekend?"
James said while finding a pile of nitrous oxide canisters on the street is "slightly annoying" he did not "see" the "anti-social consequences" of it being used.
Where is the "wisdom of a government prioritising it to such a degree that they have asked the editor of The Times to put it on the front page today, and the editor of The Times has agreed?" he asked.